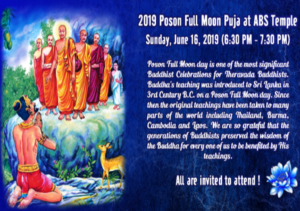 Poson Poya (Full Moon) Service
— June 10, 2019
0
1705
Poson Full Moon (Poya) Day is celebrated to mark the arrival of Buddhism in Sri Lanka in the 3rd century BC. About 2,300 years ago Arahat Mahinda, the son of Emperor Asoka of India, came to Sri Lanka and introduced Buddhism to Devanampiyatissa, the king of Sri Lanka, on a Full Moon day of June (Poson). Since then, Sri Lanka has become the Center of Theravada Buddhism in the world.
This historical introduction of Buddhism to Sri Lanka is celebrated by Sri Lankan Buddhists in the same way that they celebrate Vesak Poya, which is the most important Buddhist festival celebrated throughout the world. The practice of generosity (Dana), good conduct (Sila), and mental composure (Samadhi) are the three main activities that Buddhists engage in on this day, in a more serious manner than in their regular daily life. They also engage in devotional activities that express their appreciation of the Buddha and his teachings. Decorating the country with Buddhist flags, setting up colorful lightings and flower arrangements, and going on pilgrimages as groups to historical and religious centers are some of these devotional activities.
While these activities take place all over the country, the main center of these celebrations is Mihintale, where the Sri Lankan king met the Arahat Mahinda for the first time. This place is now a beautiful historical and religious park where many people can gather to participate in spiritual practices.
Following the arrival of Buddhism there, Sri Lanka gradually emerged as a strong Buddhist culture heavily influenced by the teaching of the Buddha, especially the Buddhist Middle Path and the Eightfold Path. The Sri Lankan people developed compassion (Karuna) and caring (Metta), together with calmness (Samadhi), and insight or wisdom (Panna). Besides individual personal growth, textual learning, writing, art, storytelling, irrigation and systematic agriculture were also introduced to Sri Lanka with the arrival of Buddhism.