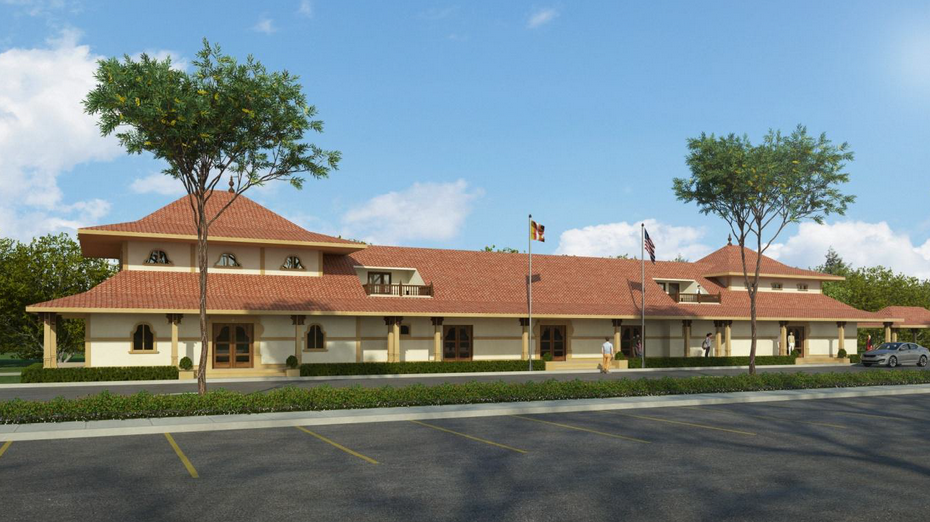 Rendering of Future ABS Temple & Meditation Center

Future ABS Temple & Meditation Center consists of two floors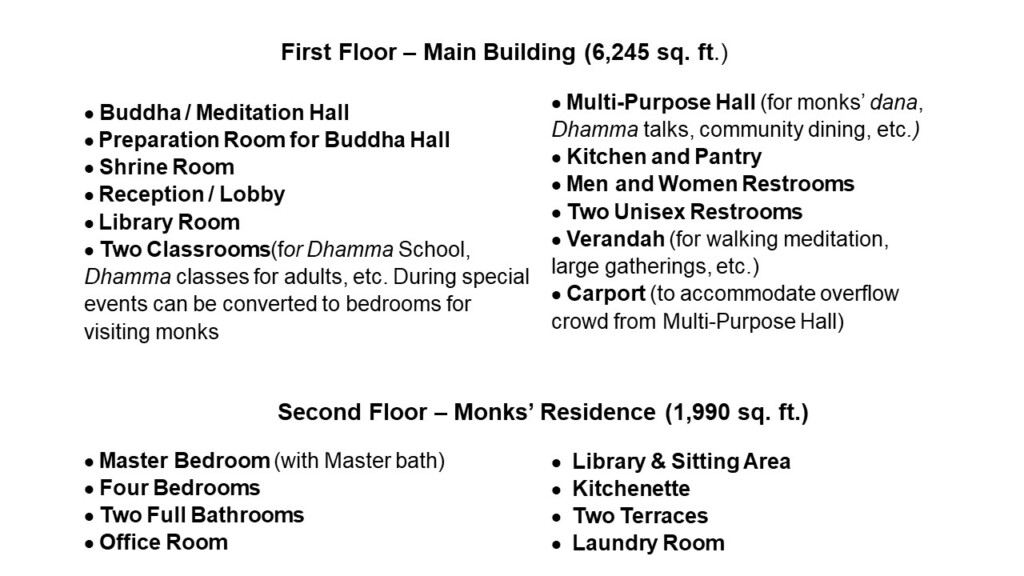 Three Key Reasons our community need this new building:
Need an alternative for existing Buddha Hall because of the structurally poor condition
Need to improve and develop innovative programs for the community and their children
Dhamma dana is supreme to all other dana as Buddha stated. Participating in building the temple, you participate in Dhamma dana to share Buddha's teaching with people who have never been exposed to Dhamma.
Phases in Construction
Construction is subdivided into three phases:
PHASE 1: Design & Permits – COMPLETED
Completed the architectural plans with civil, structural, electrical, plumbing, mechanical, and landscaping details. Because this is a place of worship, the building should comply with the federal, state, and city code requirements as a public gathering venue
Obtained necessary permits (Conditional Use Permit, Demolition Permit, Building Permit) from the City of West Sacramento.
PHASE 2: Land Preparation & Foundation (Approx. Cost: $750,000)
Plan to start Phase 2 in 2021, and this includes the following tasks:
PG & E Power & gas design
AT & T Telecommunication design
SWPPP implementation (Stormwater runoff mitigation)
Hazardous material abatement
Demolition of existing structures except for the monks' current residence
Removal of trees interfering with construction
Earthworks & site improvements (Grubbing, grading, excavation, compaction, soil treatment, erosion & sedimentation control)
Underground sewer, water, gas, and electrical line installation
Construction of the main building footings & slab
Roadway for the fire truck (City requirement)
Under-slab plumbing & utilities
Concrete foundation
Grading around foundation
PHASE 3: Completion
The Temple is a commercially constructed facility with a parking lot designed according to City requirements to accommodate a fire truck in case of an emergency. The building complies with federal, state, and city codes for public gatherings.
How can you participate?
If you would like the opportunity to volunteer and help with fundraising, please email ABSTemple@gmail.com.