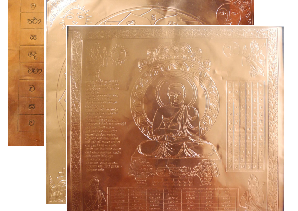 Six-month Blessing Ceremony at the ABS Temple
— December 9, 2014
Comments Off

on Six-month Blessing Ceremony at the ABS Temple
1020
An extremely rare and auspicious Blessing Ceremony  was held at ABS Temple. The ceremony started on January 1, 2015 and lasted for six months ending June 30, 2015.
ABS Temple organized and performed this very significant six months long Blessing Ceremony to bless the temple property and it's Buddhist followers for their well-being. During the six months of recitation of Suttas by monks, the temple arranged to empower four different powerful Yantras for the benefit of all ABS members and friends. Yantras are systematically prepared thin copper plates according to ancient knowledge that correspond with different Suttas recited by monks during the ceremony. These items including Navaguna Yantra, Ratnamali Yantra and Seevalee Yantra.
In Buddhist countries these items that are empowered by the continues recitation of these protective Suttas by Buddhist monks are kept in their homes or close to to the body for for protection and prosperity. Since the end of the six months blessing ceremony these items are continually blessed every day and night by the monks.
ABS Temple Building Committee wishes to distribute these Yantras among the major donors to the Temple Building Fund, as gift of appreciation.