Venerable Tekewe Shantharakshitha Mahathera
Senior Resident Monk
Venerable Tekewe Shantharakshitha Mahathera (popularly known as Venerable Shantha) has been serving as the abbot of the ABS Temple at Sacramento since the beginning of 2001. Venerable Shantha became a novice monk in 1967 at the age of 14 at the ancient Jetthatissa Maha Viharaya near Panduwasnuwara. After a preliminary education at Sandalanka Pirivena (school for monks), he attended the University of Sri Lanka, Kelaniya Campus, where he majored in Buddhist Philosophy. After graduation he taught Pali, Sanskrit, and Buddhism at the renowned Sunetra Devi Pirivena in Colombo and later served as the principal of a prominent Pirivena in Kurunegala. Venerable Shantha received a Master's Degree in Buddhist Philosophy in 1990 while he was teaching at a high school in Kurunegala District. He was serving as the principal of that high school, which had over 550 students and a staff of 35 teachers, when he received the ABS invitation to come to serve at ABS Temple in Sacramento. He arrived at Sacramento in June, 1997.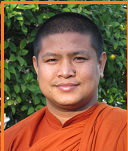 Venerable Shanta Shobhana of Nepal
Resident Monk
Venerable Shanta Shobhana was born in Nepal and went to Sri Lanka on November, 1999 when he was thirteen years old. He was ordained as Theravada novice monk on January 22nd, 2000 at Sri Jettha Tissa Raja Maha Viharaya, Detiyamulla, Sri Lanka. He received his primary & secondary education from, Sri Sumangala Maha Pirivena, Wariyapola, Sri Lanka. Venerable Shobhana completed all three levels of examinations held by prestigious Oriental Studies society of Sri Lanka and received Royal Pandith (Rajakeey Panditha) Degree in 2007. He received his higher ordination in 2009 at Malwatta Chapter of Siam Maha Nikaya. He obtained Bachelor's Degree with major in Buddhist Philosophy, Pali and Comparative Philosophy in 2009. He received his Master's degree in Buddhist Philosophy from the Buddhist & Pali University, Sri Lanka, in 2010. Venerable Shanta Shobhana arrived in U.S. and started serving at ABS Temple in 2013.