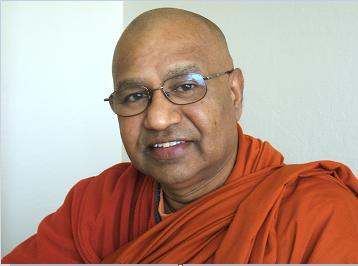 Venerable Madawala Seelawimala Mahathera (
Bhante Seelawimala
) was ordained as a novice monk in Sri Lanka when he was ten years old. He was ordained by the Most Venerable Dhamma Master Hendiyagala Sri Seelaratanabhidhana Nayaka Mahathera of the Ancient Cave Temple in Kurunegala District, Sri Lanka, who was one of the most revered Dharma teachers in Sri Lanka at the time. At age eleven he entered the Maliyadeva Boys' College and became the only young monk who received a secular education in Sri Lanka. During this period he grew up under the supervision of Venerable Dr. Dickwela Piyananda who started the Washington Buddhist Vihara, the first Theravada Vihara in North America, with the collaboration of the Sasana Sevaka Society of Sri Lanka. He received his higher ordination in 1968 at age twenty. He received his Bachelor's degree in Buddhist Philosophy 1971 from the University of Sri Lanka, Peradeniya. In 1974 he received his Master's degree at the same university.
By invitation of the late Reverend Tsuji, the Bishop of the Buddhist Churches of America, the largest Buddhist organization in America, Bhante came to the United States to teach Theravada Buddhism at the Institute of Buddhist Studies (IBS) in Berkeley, California in 1976. Since then, Bhante has been teaching at IBS and at the Graduate Theological Union affiliated with the University of California Berkeley.
With his master, Venerable Dickwela Piyananda, Bhante helped establish the Toronto Buddhist Vihara in Canada in 1982; he was instrumental in managing that Temple for the first five years. Subsequently he established the Buddhist Vihara in British Columbia in Vancouver, Canada. He assisted in establishing the Buddhist Vihara in San Jose, California, and in 1996 he established the ABS Temple at Sacramento. He also has assisted in establishing Buddhist temples in Phoenix, Arizona and Edmonton, Canada. Bhante travels widely throughout the United States, Canada, and Asia to give lectures, Dhamma talks, and retreats.