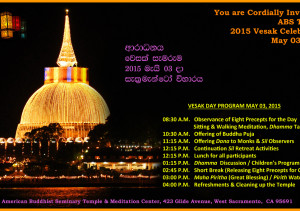 ABS Annual Vesak Celebration, May 18, 2019
— April 24, 2015
Comments Off

on ABS Annual Vesak Celebration, May 18, 2019
1687
Dear Members and Dharma friends,
ABS Annual Vesak Celebration, May 18, 2019
It is with great pleasure that we, the monks and the Dayaka Sabha of ABS Temple, invite you to join us to celebrate our annual Vesak Festival on Saturday May 18, 2019. This is the traditional celebration of the Birth, Enlightenment and Passing Away of the Buddha that falls on Full-Moon day in the month of May.
SIL (Precepts) Retreat – May 18th Starts at 8:30 A.M.
On May 18th we will have a SIL Retreat at the ABS Temple starting at 8:30 A.M. and ending at 4:00 P.M. Adults and children are invited to participate in the program to observe eight precepts for this day of learning and practicing Dhamma.
Vesak Ceremonies Open to Public Start at 10:30 A.M. with Food Offering
Those who do not participate in the SIL Retreat please arrive at the temple by 10:00 A.M. to participate in Buddha Puja and Dana to monks and the SIL participants. Please bring your favorite dish for offering and to share with others, as in the past years (rice will be prepared at the temple).
Afternoon program includes Dhamma Talk, Dhamma Discussion and Children's program. Another special event of the day will be the Maha Piritha (Great Blessing) recited following the style of Six Month Blessing Ceremony that starts at 3:00 P.M. Please plan to join this ceremony to receive blessings for good health, success and happiness for yourself and your family. All activities of the day will end at 4:00 P.M.
We look forward to seeing you, your family and friends at this annual special event. May the blessings of the Triple Gem shower blessings upon you for your good health and peace of mind.
With Metta,
The Venerable Monks and the Dayake Sabha